Aims and Scope
Jacques H. Poupaert, Blanche Aguida, Codjo Hountondji
---
Introduction:
On account of the current COVID-19 pandemic, we have explored the importance of azithromycin and zinc in the treatment of the coronavirus disease by studying the interaction between the cation Zn++ and azithromycin with the tools of the semi-empirical quantum mechanics PM3 method.
Methods:
By this approach, the niche in which Zn++ is located was determined. Zn++ creates a strong clastic binding between an amine and a hydroxyl group located on the amino-hexose side-chain. Such an interaction serves as a shuttle and allows zinc cation to invade endocellular structures.
Results:
In this triple collaborative association, the role of hydroxychloroquine would be more that of a chaotropic agent at plasmic membranes, which facilitates access to the azithromycin-Zn++ equipage into key internal compartments.
Conclusion:
Finally, we show that both azithromycin and Zn++ are susceptible to play a direct role against the replication and the assembly of SARS-CoV-2 particles.
---
September 22, 2020
Margarita Velásquez, Darío Méndez, Carlos Moneriz
---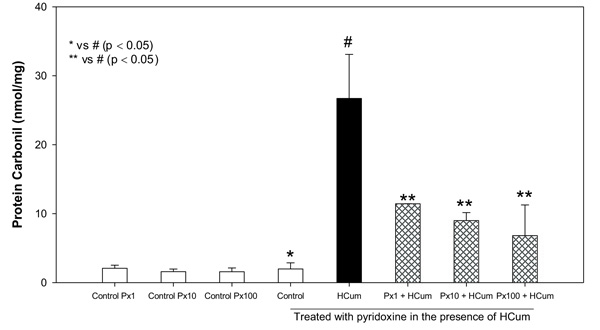 Background:
Pyridoxine has reduction and prevention against the levels of reactive oxygen species in in vitro studies. However, the biochemical mechanism that explains this behavior has not yet been fully clarified.
Objective:
To evaluate the effect of pyridoxine against oxidative damage on the membrane of human erythrocytes.
Methods:
Cumene hydroperoxide was used to induce oxidative stress in protein and lipid. Human erythrocytes were incubated with pyridoxine and cumene hydroperoxide, either alone or together for 8 h. Oxidative damage was determined by measuring lipid peroxidation and membrane protein carbonylation.
Results:
The results indicate that the malondialdehyde concentration decreased with increasing concentration of pyridoxine. The membrane protein content also decreased with increasing concentration of vitamin B6, which was confirmed by the decreased signal intensity in the western blot when compared to control without pyridoxine. Results demonstrate that pyridoxine can significantly decrease lipid peroxidation and protein carbonylation in red cell membrane exposed to high concentrations of oxidant agent.
Conclusion:
Pyridoxine showed a protective effect against the oxidative stress in human erythrocytes in vitro, inhibiting the carbonylation and the oxidative damage of erythrocyte membrane proteins. To date, such an effect has not yet been reported in terms of protein oxidation.
---
May 31, 2019