Aims and Scope
Bin Wang, Michael S. Thompson, Kevin M. Adkins
---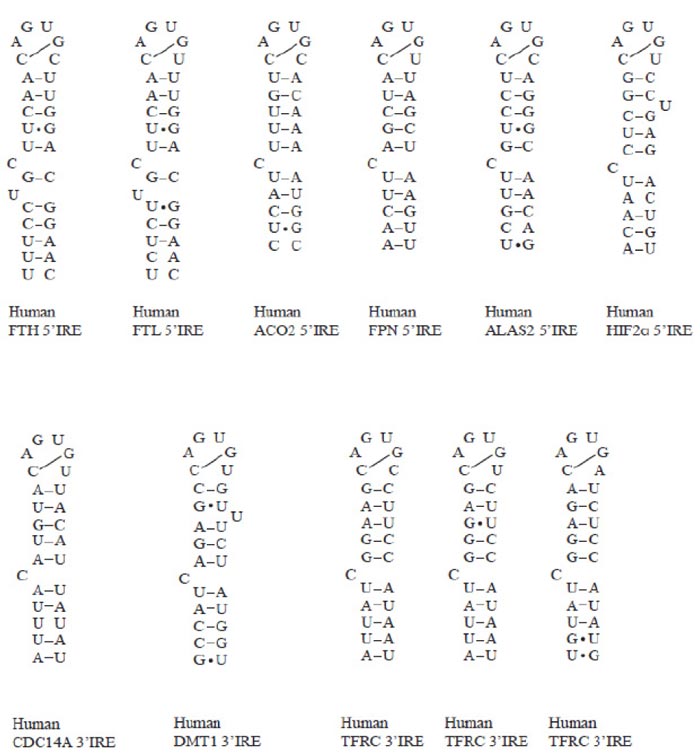 Background:
Iron-responsive Elements (IREs) are hairpin structures located in the 5' or 3' untranslated region of some animal mRNAs. IREs have a highly conserved terminal loop and a UGC/C or C bulge five bases upstream of the terminal loop, which divides the hairpin stem into an upper stem and a lower stem.
Objective:
The objective of this study was to investigate the base-pair composition of the upper and lower stems of IREs to determine whether they are highly conserved among mRNAs from different genes.
Methods:
The mRNA sequences of six 5'IREs and five 3'IREs from several animal species were retrieved from the National Center for Biotechnology Information. The folding free energy of each IRE mRNA sequence was predicted using the RNAfold WebServer.
Results:
We found that the upper and lower stems of IREs are not highly conserved among the mRNAs of different genes. There are no statistically significant differences in the IRE structures or folding free energies between mammalian and non-mammalian species relative to either the ferritin heavy chain 5'IRE or ferroportin 5'IRE. There are no overall significant differences in the folding free energies between UGC/C-containing 5'IREs and C-bulge-containing 5'IREs, or between 5'IREs and 3'IREs.
Conclusion:
Further studies are needed to investigate whether the variations in IRE stem composition are responsible for fine-tuning the IRE/Iron-Regulatory Protein interactions among different mRNAs to maintain the balance of cellular iron metabolism, and to identify whether evolutionary processes drive the base-pair composition of the upper and lower stems of IREs toward any particular configuration.
---
May 03, 2021
Jacques H. Poupaert, Blanche Aguida, Codjo Hountondji
---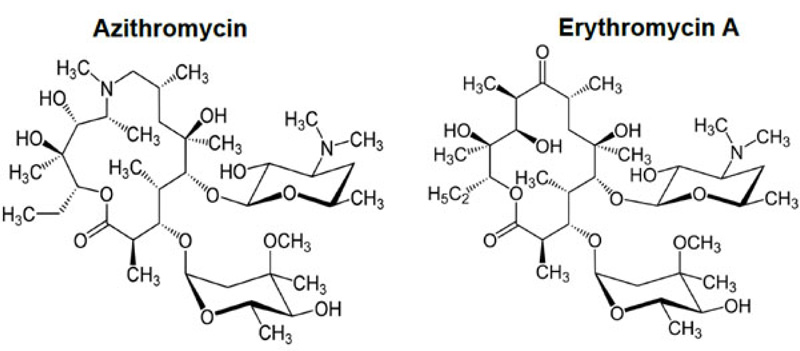 Introduction:
On account of the current COVID-19 pandemic, we have explored the importance of azithromycin and zinc in the treatment of the coronavirus disease by studying the interaction between the cation Zn++ and azithromycin with the tools of the semi-empirical quantum mechanics PM3 method.
Methods:
By this approach, the niche in which Zn++ is located was determined. Zn++ creates a strong clastic binding between an amine and a hydroxyl group located on the amino-hexose side-chain. Such an interaction serves as a shuttle and allows zinc cation to invade endocellular structures.
Results:
In this triple collaborative association, the role of hydroxychloroquine would be more that of a chaotropic agent at plasmic membranes, which facilitates access to the azithromycin-Zn++ equipage into key internal compartments.
Conclusion:
Finally, we show that both azithromycin and Zn++ are susceptible to play a direct role against the replication and the assembly of SARS-CoV-2 particles.
---
September 22, 2020